Rotors and high-speed electric machines
Rotors and high-speed electric machines
---
WELMA 100 electric power generation system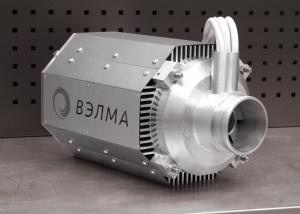 WELMA 100 electrical generation system is designed to provide consumers connected to the micro-gas turbine unit with power of a given type and quality according to GOST 32144-2013. This product provides the initial driving of gas turbine power unit by the electric generator in motor mode up to the speed required to start the gas turbine motor and subsequent conversion of electric energy produced by electric generator into electric energy of industrial standard.
WELMA 100 includes electric power generator, frequency inverter, control unit, switching unit, LC-filter and transformer.
The electric power generator is designed to convert mechanical energy of the turbocharger into electrical energy (generator mode) and to convert electrical energy into mechanical energy of rotation (motor mode). The generator is a synchronous reversible electric machine with excitation from high-coercive permanent magnets. The generator rotor is mounted on two radial air foil bearings.
The frequency inverter can operate in both starter and generator modes. In the starter mode, the electric power generator is started in motor mode for pre-spinning the gas turbine motor. In this mode, the frequency inverter is powered by the external industrial electrical network or a high-voltage electric battery. When switching to generator mode, the switch to power from the generator and generation of electricity of a given type and quality at the output of the product occur.
The product is controlled from the operator panel located on the control unit or via a digital communication channel (RS-485 ModBus RTU).

WELMA 100 main parameters and dimensions:
| | |
| --- | --- |
| Rated power in generator mode, kW | 100 |
| Rated generator rotor speed, rpm | 60 000 |
| Rated output three-phase voltage in generator mode, V | 400 |
| Rated output current frequency in generator mode, Hz | 50 |
| Electrical power quality and limit deviation | GOST 32144-2013 |
| Power in starter mode, max. kW | 30 |
| Rated current frequency in starter mode from mains supply, Hz | 530 |
| Rated current frequency in starter mode from high-voltage (700 V) battery, Hz | 700 |
| Output frequency built-up time from 0 to 530 Hz, not more than | 20 |
Rated power consumption, VA
| | |
| --- | --- |
| Internal heating system operation | 250 |
| Product operation | 490 |
Overall dimensions (LxWxH) mm, weight, kg, not more than:
| | |
| --- | --- |
| Electric power generator: | 450х240х240, 40 |
| Frequency inverter: | 420x360x650, 51 |
| Control unit: | 380x360x640, 35 |
| Switching unit: | 400х240х600, 23 |
| LC filter: | 440x414x555, 142 |
| Transformer: | 840x500x730, 490 |
| Uninterruptible power supply: | 220x400x510, 15 |
To get access to the catalog and questionnaires, please fill in the application form
You will be provided with: